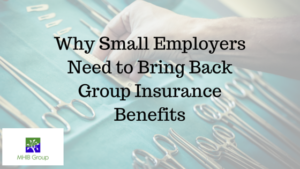 Six years after the passage of the Affordable Care Act of March 23, 2010, health insurers and consumers in the "marketplaces" are paying out more for healthcare than they ever have before.
This bill that was supposed to be a way to lower the cost of health care and make it easier for the public to get and keep affordable health insurance. However, with many smaller employers not offering their employees health care, the Affordable Care Act, may be not as affordable as expected.
As an unintended consequence of the Affordable Care Act, many small employers have stopped offering health insurance and are sending their employees to the exchange to seek out their own. There are several big reasons why this may not the best option. For instance, in the marketplace the enrollment process can take 4 to 6 weeks before you receive an ID card or a correct bill from your insurer.  If you move, even just a mile away, you may be in a new rating area, which means you may have to get a whole new insurance plan.  In that instance, anything that you have paid toward your out of pocket max for the year would now start all over again in your new plan. And coming up this year, between Halloween and Christmas, you may have to reapply to the very same plan you are already in. With health insurance companies running at a loss due to the Marketplace, you can bet that premiums will go up again in 2017, perhaps substantially.
"I had a customer tell me yesterday they have never received so much correspondence on a purchase of anything in their life! They got a letter from Medicaid that says it's from Connect for Health Colorado, a letter from Connect for Health Colorado that says it's from Rocky Mountain Health Plans and a letter from Rocky Mountain Health Plans that contradicts all the other confusing letters she'd already received from Medicaid and Connect for Health Colorado."
As an employer, offering health insurance to your employees will save your employees so much hassle that they will thank you! Supplying and offering benefits such as health insurance to your employees is also rewarding for the employer because it creates satisfied employees who are then very loyal to your company. This makes it much easier to retain those valuable employees that keep your business running so smoothly.
Your employees are hard at work for you, and with their free time they are caring for a family, shopping for insurance al the time takes away from work and family.  Contributions and participation rules have changed for employers and coverage options are becoming more economical than they once were. Give back to your employees, and work with an agent that can bring group insurance benefits to your company at a cost that everyone can afford.
Social Share