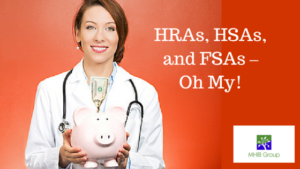 Health care plans, no matter how comprehensive, do not cover everything. Those extra expenses add up. Even if you eat right, exercise regularly, and manage existing illnesses, you can still find yourself at the doctor's office with the flu or a broken bone. Furthermore, you still have to see the dentist, and go in every year for your annual physical and eye exam. Those things cost money.
While health insurance covers a lot in terms of your medical care, no insurance plan pays 100% of your bills.  So, it's a good idea to look into health reimbursement accounts (HRAs), health savings accounts (HSAs) and flexible spending accounts (FSAs), especially if your employer offers them.
HRAs, HSAs and FSAs are all types of savings accounts that help you cover health expenses. Some are offered by your employer, some are owned by you, and some are owned by both you and your employer. All are meant to help you pay for health care costs when they come up. So, think of them as a way to save now while your healthy!
If you have any questions on the differences between these accounts, or want to know about a specific account your employer is offering and whether is a good fit for you or not, please give me a call! I am here to answer your questions and help find the perfect fit when it comes to your health care planning.
Social Share